Ecochlor Hires Scheid as Europe Business Development Manager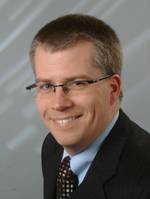 U.S.-based ballast water treatment systems manufacturer Ecochlor announced Sören Scheid will be managing the company's new office in Germany as the Regional Business Development Manager for Europe, Scandinavia and the U.K.
Scheid brings to the role more than 10 years of work experience in the maritime industry, including roles in sales, process engineering and operational environmental protection.
The Ecochlor ballast water management system (BWMS) uses a two-step process to treat ballast water; filtration followed by an injection of chlorine dioxide (ClO2) into the ballast lines. The system has both IMO G8 Type Approval (2011, 2017) and G9 Final Approval as well as USCG Type Approval (2017).
Andrew Marshall, VP of Business Development said, "Sören brings an exceptional set of qualifications and increased momentum to Ecochlor as we continue to grow our sales and support resources for the shipping industry. His experience in after-sales support as well as his proficiency as a technical environmental engineer will assist our global sales team working in tandem with our customers to reach a common goal – BWMS regulatory compliance for each and every ship that performs ballast operations with an Ecochlor system."